A healthy cow supplemented with Posilac® produces an average of 10 more pounds of milk per day¹. In addition to other sound production practices, dairy producers supplement cows with Posilac to help produce a little more milk while using fewer resources. And a little more milk means a more successful dairy business and a more abundant food supply for an ever-growing global population—all while providing quality, nutritious dairy foods for families around the world.
Adding Posilac to your dairy management program allows healthy cows supplemented with Posilac to produce an average of 10 more pounds of milk per day¹. This added productivity reduces your cost of production by 3%-5%, or approximately $0.50-$1.50/cwt².When you look at how milk production impacts your bottom line, Posilac can make a world of difference.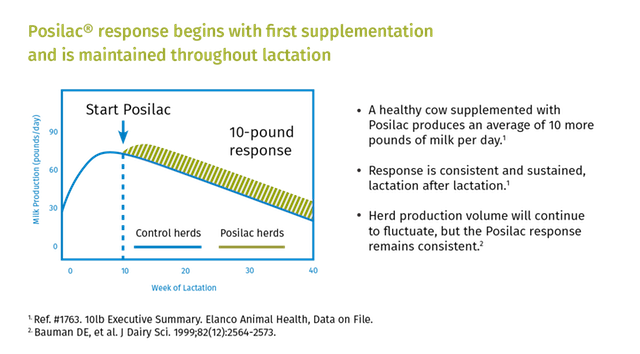 For more than 20 years, Posilac has enabled farmers to produce safe, nutritious milk that is affordable and is also produced in a more environmentally responsible way³.

- All major global dairy importers allow the import and sale of US dairy products and meat from cows supplemented with Posilac®.

- Posilac® is the most researched animal product ever to be approved by the FDA4.

- Specific to human safety, regulatory authorities, together with their scientific assessment bodies in more than 50 countries, including Australia, Canada, the Commission of the European Communities (Committee for Veterinary Medicinal Products), South Korea, and the United States, have determined that milk and meat from cows supplemented with rbST are safe for consumption by people of all ages4. A thriving dairy means everything to dairy producers and their families. In much the same way, what their farms produce is also vital to our future.
Posilac is the most researched animal product ever to be approved by the FDA4

Important Safety Information

The label contains complete use information, including cautions and warnings. Always read, understand, and follow the label and use directions.

Posilac®: Supplement lactating dairy cows every 14 days beginning at 57–70 days in milk until the end of lactation.

When calculating net carbon footprint, manufacturing processes and total environmental costs must be considered.

1 Elanco Animal Health, Data on File
2 Elanco Animal Health, Data on File
3 Capper J, Cady R, Bauman, D. The environmental impact of dairy production: 1944 compared with 2007. J Anim Sci. 2009;87:2160-2167.
4 Raymond R, Bales CW, Bauman DE, et al. Recombinant bovine somatotropin (rbST): a safety assessment. National Animal Interest Alliance Web site.
http://www.naiaonline.org/ pdfs/ RecombinantSomatotropin ASafety Assessment2010.pdf Published March 22, 2010. Accessed May 12, 2014.